We are getting the new year started with some powerful new features! In this new feature announcement, we are thrilled to announce that you can now edit art, logos, and designs directly in InkSoft from any order, quote, invoice, or sales presentation!
Think of all of the common artwork changes that are involved when managing and editing orders. These changes include edits and changes like:
Color modification
Size, scale, placement, and position changes
Removing, swapping, or replacing logos or logo colorways
Typos and correcting mistakes
Adding elements, clip art, or fonts
You can now handle all of these change scenarios by using the all-new Edit Art feature!
The best part of this new feature? Once you make edits and changes, you can keep the existing pricing intact or elect to recalculate the price to factor in any changes that might impact your cost and profitability.
Bottom line: Editing art directly in InkSoft means faster workflows, accuracy, better communication, and less friction.
Watch the Edit Art Video Overview
How to Access the Edit Art Feature
From Orders
You can access the Edit Art feature from each unique product line item in InkSoft Orders. Click the topmost eclipse icon to access the edit option.
From Proposals
If you created product mockups using InkSoft's Rapid Product Creator, you could directly edit this art from any quote, invoice, sales presentations, and proposals. From each unique product line item, you can select the 'Edit Art' option.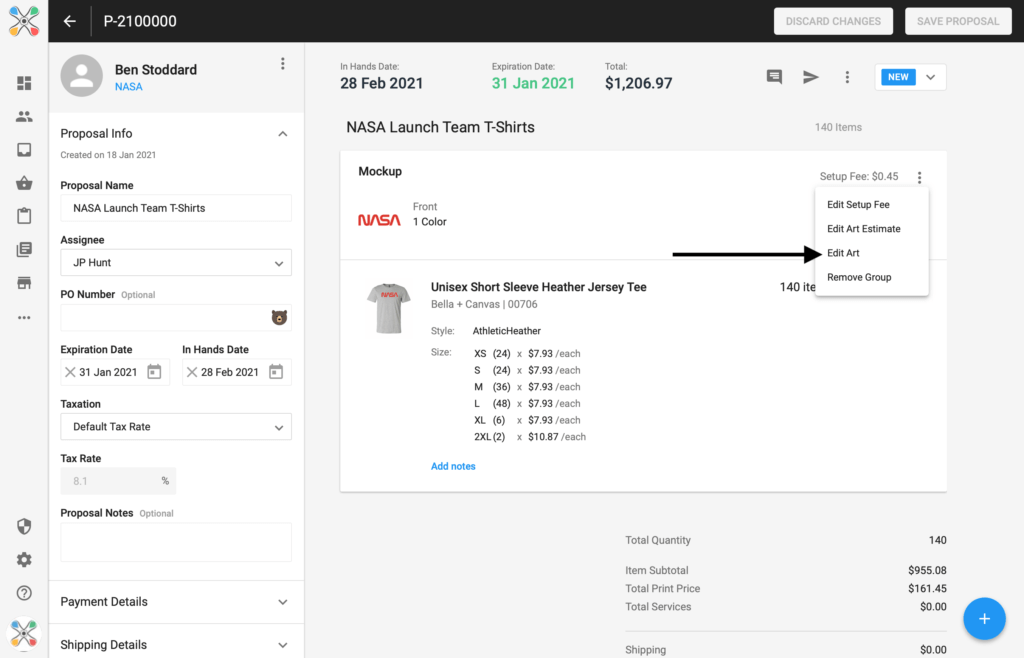 Need Help? Have Questions?
To learn more about the Edit Art feature and all the edit order features, be sure to check out this training guide.
Have questions about edit art or any other features in InkSoft? We're here to help! Give our support team a call at 800-410-3048 Ext. 1, or drop an email: support@inksoft.com