Bottom Line Up Front: With Name, Image, Likeness (NIL) deals, you can match the power of InkSoft's online stores with your decorating skills to help student-athletes sell branded merchandise.
There's been a significant change in the student-athlete world that could impact your business. In July, the NCAA changed restrictions on how student athletes can make money. In the past, students couldn't profit from their names as individuals with endorsements, products, or advertising. But now, they can.
What's this got to do with the hats, tote bags, hoodies, and koozies you print? Quite a lot, really! Let's take a closer look at how this change is beneficial for your business.
Some background: Name Image Likeness
The historical and exciting change took place on July 1st. It relates to how NCAA athletes can accept money from businesses to let the company feature them on products or in advertisements. The decision came after court battles and increasing political pressure over how colleges could basically make money off their athletes. Still, it limited how those same student-athletes could make their own money.
These rights are also known as name, image, likeness (NIL) rights. Through the NCAA's new change, students from all three divisions can monetize their NIL. This means they can take advantage of advertising deals, sponsorships, and, most importantly, licensed products with their name or image on them.
Getting in on the deal
Some students are already diving at the opportunity too. For example, Hanna and Haley Cavinder, basketball players with Fresno State, recently signed an endorsement deal with wireless communications company Boost Mobile in New York.
Multiple athletes launched their own custom-brand apparel lines, including Nebraska volleyball player Lexi Sun. Kentucky basketball player Dontaie Allen also released his apparel lineup through The Players Trunk. Allen has T-shirts, hoodies, and youth-sized apparel, all branded with his image on them.
In most cases, these athletes aren't waiting for the deals to come to them. They're getting out and exploring opportunities to score big with branded merch. Illinois Guard Brandin Podziemski stopped by Campus Ink a couple of weeks ago to sign an exclusive partnership with the apparel decorator.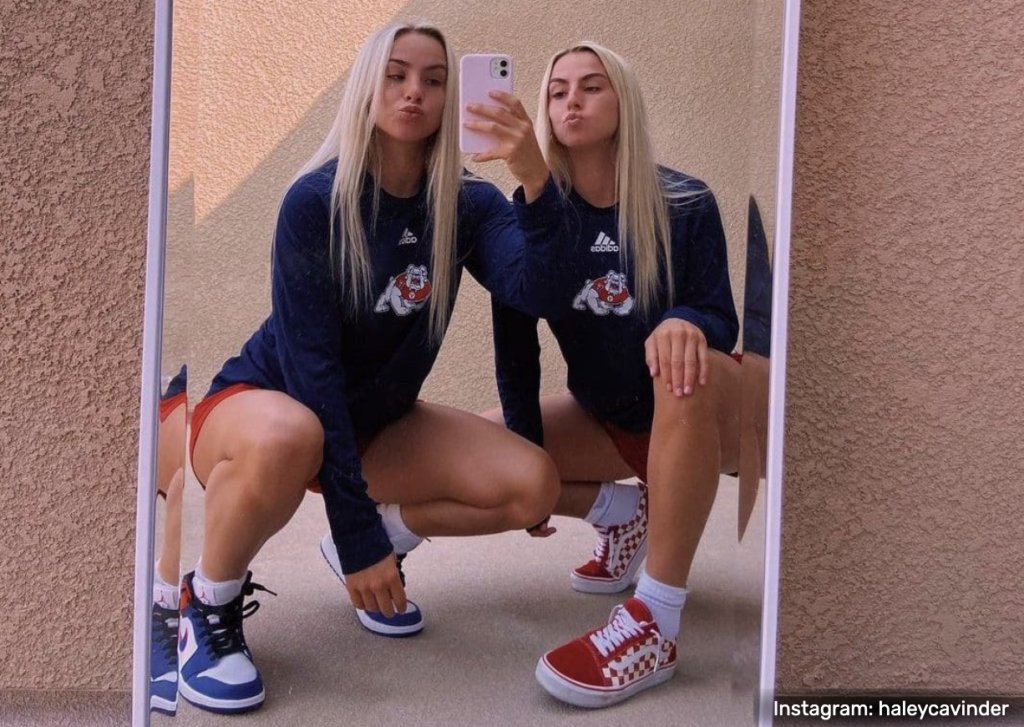 What does the NIL change mean for apparel decorators and printers?
There's a good chance your shop already prints merch for college sports teams and retail stores. But until now, most of what you print is generally team wear purchased by the school or fanwear purchased by the store. With the changes to NIL, now you've got a whole other sector of the team apparel world to print for""the student-athlete!
NIL rights are also known as an individual's "right to publicity." That means socks, hats, shirts, banners, anything your shop can print can carry a customized branding, logo, and student-athlete name.
This is where InkSoft web-to-print stores provide a powerful tool to seize the opportunity.
The same features you already use to create and design merch are the perfect tools for NIL deals.
Here's why:
A custom-branded store is now the athlete's store. The same stores used for team apparel are also the perfect spot for student-athletes to sell their custom merch. Set them up with an exclusive merchandise shop through the platform.
It's fast and easy. Remember how we mentioned students aren't wasting any time to line up their deals? It would help if you operated in the same headspace. InkSoft stores feature all the essential tools to quickly build an online store that looks good and functions well on mobile.
Rapid product creator is your friend. Whether that student-athlete wants a branded mug, tote bag, coasters, or jerseys, the Rapid Product Creator can handle it all. Once you have the artwork from the athlete, "virtually" decorate any product in the catalog. Then, add it to the store for customers to purchase. Best of all, you can save all the critical info you and your team need to print the finished product, like ink color and fabric type.
Make multiple stores. Limited-edition apparel is something that's popular way beyond college sports. If a student-athlete wants to print a limited-time merch line alongside their standard product line, you can use InkSoft stores to run more than one shop. That "fear of missing out" can generate a lot of buzz for the athlete's campaign and help you land more jobs with them.
Proceed with caution
There's plenty of promise with the changes in NIL licensing, even though it's in the early stages. But, make sure you check your state's laws on NIL since the fine print varies state-by-state. Right now, the NCAA's rule changes are a temporary solution while they try to sort out a long-term, nationwide plan.
There are a couple of guidelines that the New York Post helped break down too. Make sure you do your homework.
Get your name out there.
If you're involved with printing for schools and colleges, you've already got one foot in the door. Schools can't be directly involved in any sort of NIL merchandise program for students. But think about how many parents out there with budding athletes might want to take advantage of this change. Make sure you're promoting NIL services on all your marketing channels.
Do this by:
Sending an email to your client list. Even if you don't know someone directly involved with college athletes, there's a good chance your customers know collegiate athletes.
Promote it on social media. Share the news that you're excited about the NCAA's change with your followers, and let them know you're there to help. Some people may not even know about this development yet.
Update your website. Ensure you have a landing page or at least a banner announcing your NIL services as a new addition. The easier it is to spot, the better chance you'll have at catching these athletes' attention!
Are you already printing merch for NIL deals? We'd love to hear your story! Reach out to us and tell us how you've had success with the process.
Ready for a personalized tour of what InkSoft can do for your business? Let us know.
Related Posts: