In an effort to equip our customers with the most easy-to-implement, effective ideas for how to make it through these unprecedented times, the InkSoft team has been hard at work.
We've been sifting through the many incredible campaigns already underway — if you haven't seen them yet, check them out here, here, and here — in order to glean insight.
And have we ever found it.
From siblings using t-shirts to fundraise for food banks to screen printers from across the country doing everything they can to support local businesses, there's been so much creativity, so much community-mindedness, that we've been blown away.
So, in an effort to use these campaigns as the examples that they are, this blog series is going to take the insight we learned and give it back — to you.
Today's tip?
Don't be afraid to join forces.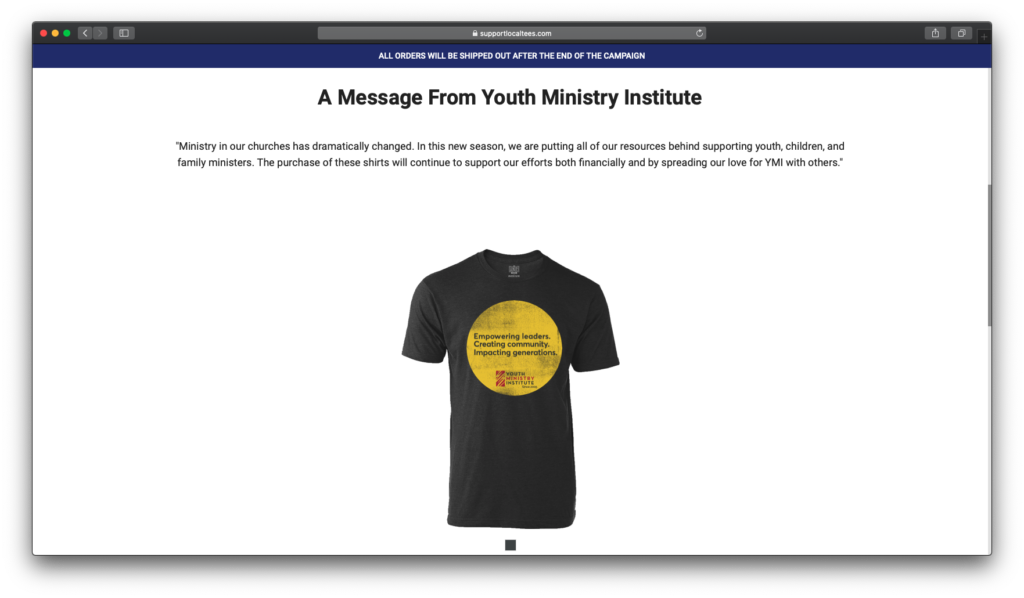 It can be daunting and complicated to start a campaign from scratch — especially today, when adversity and uncertainty run rampant.
But you don't need to start from ground zero to make a difference. In fact, it could even be argued that joining your know-how and capabilities with an initiative that's already running will lead to greater impact.
Here's how.
The breakdown
Take a liquor distillery like Old Glory, for example.
In this piece, we talk about how Old Glory transformed its bourbon whiskey supply chain into one that produces WHO-approved hand sanitizer at scale.
By partnering with Twine Graphics, an InkSoft customer, Old Glory was able to raise money for its initiative by selling custom t-shirts on an online store. (They raised over $23k.)
We're not suggesting you suddenly transform your operations to produce something critically needed — although if you can do that, then more power to you.
We are suggesting you find a local campaign or initiative, one that speaks to you, and use the capabilities you already have to make it even more successful.
Maybe there's a distillery in your community that's started producing sanitizer in lieu of its own normal liquor.
Maybe there's a local restaurant chain that's started a fund for laid off workers.
Or maybe there's a local family that's shipping care packages to hospitals' frontline workers.
Perhaps there is growing need for making face masks?
Whatever it is that inspires you, choose that campaign. Reach out to the people behind it, and ask if you can incorporate your know-how.
It won't just increase the money earned — it'll also expand the reach of the impact.
Combining networks, enhancing value
Just like the apparel decorators all over the country who are offering their services to local businesses — creating and selling t-shirts to raise money for each other — you too can offer your expertise in return for mutual gain.
Whether you're designing custom t-shirts to raise more money for that nearby distillery, or creating a custom online store for that local family to "˜sell' their care packages, your know-how isn't just useful.
It's pivotal.
By helping a campaign out, you're offering more than your skillset — you're offering your network.
When you promote the t-shirts, the store, the initiative, you're exposing the campaign to a whole new set of eyes. And, for fundraising, reach is everything.
The more community members the campaign reaches, the more impactful the result will be.
And then there's the business angle.
By taking part in and promoting a business's campaign, you're helping them to achieve brand exposure in your network. And similarly, they're helping your business achieve brand exposure in theirs.
Sure, the reach of the campaign is significant today — but what about tomorrow? What about when businesses open back up, when life goes back to operating as usual?
Well, when that happens, you'll have a whole new subset of people who know about your business, the services you offer, and the good that you do for your community.
If you ask us, it's a win-win-win.
Completely customizable — just like your services
The best part of this tip is this: how you go about joining forces is completely up to you.
You can split the proceeds from your online store 50/50 — 50% going to the initiative, and 50% going to your local business that's been affected by the pandemic.
Or, you can donate all proceeds to the initiative.
Or, you can find some other answer that makes the most sense for your business.
Whatever you choose to do, however you customize your effort, something is always better than nothing.
And, don't forget that you won't only be adding value to the campaign — you'll also be allowing your own business to continue doing what it does best.
So, because we believe that teamwork is the key to getting through this pandemic, and we believe that every business — and every person — has the power to affect change, we're imploring you to take this tip to heart.
Offer something small. Offer something big. Either way, you're making a difference. And we can't wait to hear about it.
As always, if there's anything we at InkSoft can do to help you — whether it's coaching you through our technology or featuring your campaign in our "˜Spotlight On' series — just let us know.
You can reach us at 800-410-3048. We're always happy to chat.
Good luck, and we're rooting for you!
Stay safe,
The InkSoft team