InkSoft #ShopRescue Announcement
First a Thank You!
In the two months since we announced the #ShopRescue contest, we've been flooded with entries from shops looking to win the free shop consultation from InkSoft shop guru Marshall Atkinson.
300 shops from 47 states were vying for this special opportunity!
However, only one shop can be crowned the lucky winner, who will have their shop's biggest problem solved.
InkSoft Would Like to Congratulate….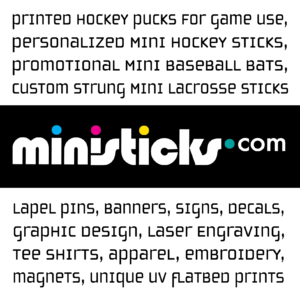 Ministicks.com of Buffalo, New York.
Ministicks.com manufactures souvenir mini hockey sticks and mini lacrosse sticks. These can be custom personalized with printing or engraving. In addition, they are also a supplier of hockey pucks and souvenir baseball bats to schools, teams, leagues, tournaments, corporate organizations and professional teams.
Ministicks.com can also design and print banners, signs, wall clings, and rigid materials. Their Flatbed UV printer has a 63″ x 96″ print area and is able to print on materials up to 6″ thick allowing them to do custom apparel for sports teams, corporate groups, fundraisers, and schools.
Here's what Ministicks.com owner Robbie had to say
"We have grown by word of mouth advertising and hope to do so for a long time to come. Our products, passion, and quality speak for themselves."
"Giving customers the tools to design what they want will take on a new dimension. I have been searching for a "˜good' online design tool for a long time. One that has everything necessary to streamline the process and workflow is not easy to find… InkSoft is all we want and more!"
"I want and need an InkSoft solution. I don't have the time to set it up myself, and I know it should have been done years ago…I'm tired of falling behind."
Well, congratulations Robbie! Marshall is excited to work with you. Be on the lookout for an update in a few weeks on how Marshall helps solve Robbie's biggest shop problems.
Still not a customer? Looking to improve the way your shop operates while booting sales? We'd love to show you around.