It's March, 2020.
The cruise ships are docking. The people are working from home. The news is always on.
There's nothing funny about COVID-19 — it's a global pandemic, and it's putting our lives on pause.
But in times of uncertainty, in times of isolation, the best thing for community — local or international — is to find some way to connect.
Ideas that make a difference
InkSoft customer Design A Shirt came up with a way to spread some lightness amidst the crisis. Instead of ignoring the trying times, they decided to face them head-on.
With humor.
Design A Shirt took a daunting topic and transformed it into messaging we can laugh at together.
One t-shirt reads, "This Is My Quarantine Shirt."
Another says, "WASH YOUR HANDS."
And another, with an image of a toilet paper roll underneath, simply states: "Hoarder."

Messaging that goes beyond messaging
The shirts are funny, there's no question about that. But for a community in panic mode, they're also something more.
They're grounding.
Being able to join in and laugh at something we're all affected by reminds us that we're not alone. It reminds us that, even in the strangest, most uncertain times, there's something that bands us together.
And whether we're just looking at the t-shirts, whether we're buying one, or whether we're buying 25 of them for the people in our building, there's the same sense of community.
The sense of community that tells us, calmly but strongly, that whatever tomorrow brings — we'll be okay.
Quick ideas deserve quick implementation
For Design A Shirt, they saw a shift happening on a massive scale and decided to do what they could to ease the panic.
"Since we're all in this serious situation together, [we] made a few designs to help lighten the mood," their team explained.
Utilizing the platform for InkSoft Stores, Design A Shirt was able to build a custom online store — that displayed all of its funny, relevant, community-building designs — in less than an hour.
Because the InkSoft feature gives customers the tools they need to get the perfect store out there, it's redefining what efficiency looks like for building online marketplaces.
Why speed matters
In the case of Design A Shirt's COVID-19 messaging, a delay in getting the product out there for the world to see could've meant a few things.
From a business angle, it could've meant another apparel designer implementing the same idea first. It could've meant lower reach, lower sales, and lower profits.
From a community angle, it could've meant less people seeing the shirts — less people getting reminded of the through-line they share with the community they've been physically distanced from. It could've meant less laughter, less connective tissue, and less unity.
Not just this time, but every time
Efficiency in creating a custom online store isn't just crucial when responding to COVID-19.
It's crucial when responding to — or preparing for — any community event.
Take the Nashville tornado. When Sarah Riggins saw the damage it caused, she knew she had to take action.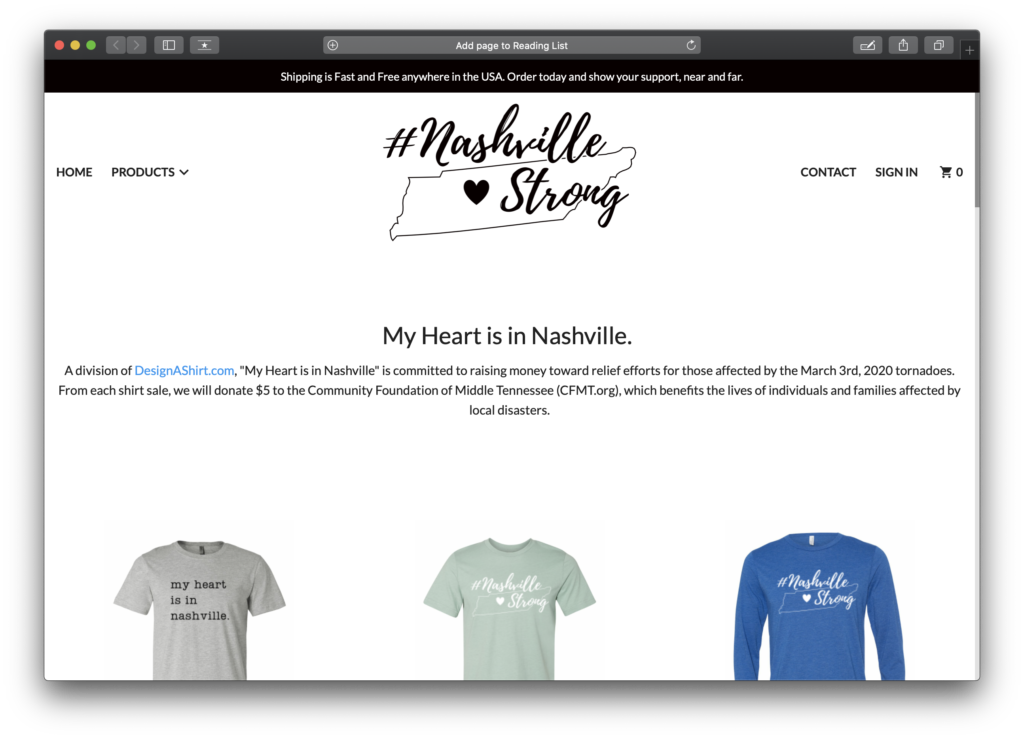 Working with Design A Shirt, she got her #NashvilleStrong designs into a custom online store quickly — allowing her fundraising initiative to take off.
Quick ideas lead to quick action
It could be raising the spirits of a global community.
It could be raising funds for a natural disaster.
Or it could be as simple as raising the standard for your online marketplaces, thereby raising your customer satisfaction.
Whatever it is, InkSoft Stores is there to help you achieve your purpose faster, better, and with all the support you need. Because, at the end of the day, we're all part of the same community.
We all want you to do what you do best.