There's nothing more inspiring than a business that looks out for other businesses.
That's always true — but it's especially true now.
It's March, 2020.
The whole country is on pause. The whole country is waiting for answers that have yet to be conjured. And businesses… well, it's no secret that businesses are hurting.
Forced to close their doors.
Forced to lay off their staff.
Forced to find new ways to make money, because their old products and services are no longer possible to sell.
It's a position they were all forced into, without any warning or explanation. And it's a position that has rendered many helpless, if not hopeless.
An idea in the darkness
Andy Holst, the owner of decorated apparel company Embroidery & Screen Works (EASW), experienced those feelings firsthand.
With his business on the brink of closure — and 14 of his staff's jobs on the line — Holst was stuck.
To him, EASW is more than just a workplace. It's a family — somewhere his employees should be able to feel safe.
Taken care of.
With that responsibility on his shoulders, he knew he couldn't shut down. Stopping operations for any period of time was out of the question. So he came up with a creative solution to keep his business — his family — moving.
Here for Good
Holst knew he couldn't possibly be the only business in his community facing the horror of closing down shop, so he decided to approach the problem head-on — in a way that invited other local businesses to join him.
The concept was simple.
Create branded t-shirts for businesses in the community that could be sold online.
$10 from each t-shirt would go to the local business, and the other $10 would go to EASW — also, of course, a local business.
Not only would the fundraising program help businesses like the neighborhood brewery, taco joint, and bed & breakfast earn some money during their slowed (or stopped) operations, but it would also keep Holst's employees working.
It was a double-edged win, and it reignited the hope — for communities in South Dakota — that had been lost in the chaos.
Beauty in the details
For Holst and the local businesses he worked with, the partnership looked like this:
Using InkSoft's Designer feature, the businesses were able to design their t-shirt exactly the way they wanted — from the comfort of their own home.
The easy-to-use digital designing tool made it possible for each business to take the reins on its own design — and whether that design included a logo, slogan, crazy color, or all three, the final product was up to the brand it was showcasing.
That's important, because who knows a brand better than the people operating inside of it?
Once the t-shirt was finished, it moved right along to the store.
The Here For Good 605 Store is a digital marketplace that was set up by Holst and his team, using InkSoft's Stores feature.
What started as a place to exhibit a couple of branded t-shirts turned into a full-fledged, state-wide showing of support — that, as of now, has 60 t-shirts up for sale.
That means that there are 60 businesses — ranging from the bed and breakfast to the auto paint & repair shop, from the dog groomer's to the neighborhood church — that have joined in.
That have been impacted by Holst's idea to turn something dire into something actionable.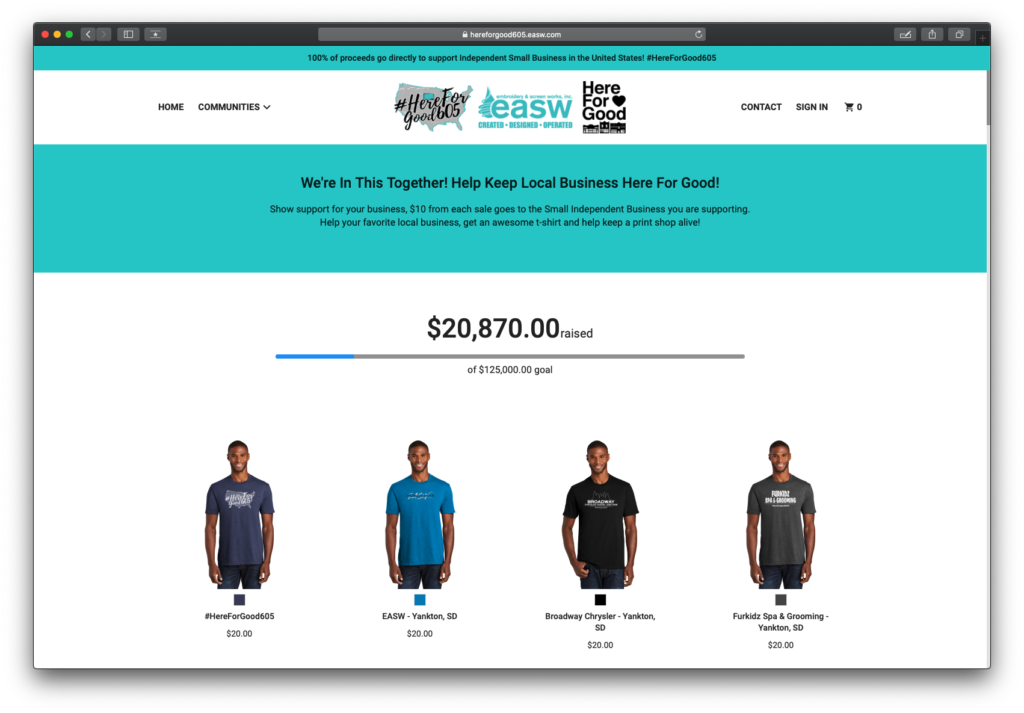 Beyond the revenue
The profits earned through community members (and beyond) purchasing t-shirts is, of course, significant. It helps to pay bills, to pay employees, and to overall keep things afloat.
But more than the money is the support. The intangible sense of community that comes from seeing your customers, your neighbors, spending their hard-earned money to take home a reminder of your business.
A piece of it.
Without saying a word, they're saying that they appreciate your business.
They're saying that they can't imagine their community without it.
And beyond the money, beyond the brand awareness that selling t-shirts with business messaging on it promotes, it's that feeling of community that matters most.
"The support we give each other is what's going to get us through this."
Written towards the bottom of the virtual store's page, underneath all of the t-shirts proudly displaying the names of local businesses, it's a quote that resonates.
Whether for small businesses or for individuals, the sentiment holds true — our world is in crisis, but if we work together, if we find ways to hold onto normalcy and show our support through acts of kindness, then we'll be okay.
"We want our employees, we want our small businesses, we want our communities to be here for good, forever," Holst said.
And what started as a way to help his own employees has turned into something that reaches far beyond his community — and even state — lines. With 60 t-shirts and growing, Holst has his eyes on bringing more than just South Dakota together.
He's interested in uniting the nation — in inspiring everyone to "do good in a time of bad."
Embroidery & Screen Works, InkSoft, and you
Holst and his team at EASW turned an idea into something actionable. They wanted to find a way to use their skill-set to support other local businesses — and because they had the tools they needed, they did.
"If it weren't for InkSoft, we wouldn't have been able to do this," Holst wrote to our team. Because our features don't just design awesome products and set up easy-to-navigate online stores.
They make it so that anyone — any local business, any high school or sports team — can buy-in. It's not just about creating great stuff, it's about making every step in the creation process accessible.
And we believe that our features are truly that: accessible.
Every business should be able to diversify its offerings, especially in times like this. Especially in March, 2020.
With InkSoft's features, and with initiatives like Holst's Here For Good 605 Store, you can. Be sure to check out our online t-shirt fundraising class and get the free marketing copy kit.
If there's anything we at InkSoft can do to help your team out, please don't hesitate to give us a call. You can reach us at 800-410-3048, or contact us here.
We're here for you. And we believe, at our core, that we all do better when we're working together.
Stay safe,
The InkSoft team