Bottom Line Up Front: Relentless hard work, unrivaled passion, and clear-as-day vision have fueled today's Spotlight subject into one of our industry's biggest players. We break down how they've used their principles and capabilities to build their legacy.
Here we are — back again with another look at how InkSoft customers take our tech solutions and make them theirs. And this time, that distinctive personalization is shining through in overdrive.
If you've been wondering how to stand out from the crowd, how to leave your site visitors enthralled from the very first scroll, or how to use technology to back up — not clutter — your brand's identity, then this is the Spotlight for you.
And we'll be the first to tell you: it's really something special.
From their commitment to staying true to their principles to their prowess at getting to the core of what their customers are after, this screen printer is nothing short of a force in our industry. And their storytelling, flexibility, and heart haven't gone unnoticed by the experts who comprise it.
We were inspired by their story, and we're pretty confident you will be too. Without further ado, meet our newest Customer Spotlight: Jakprints!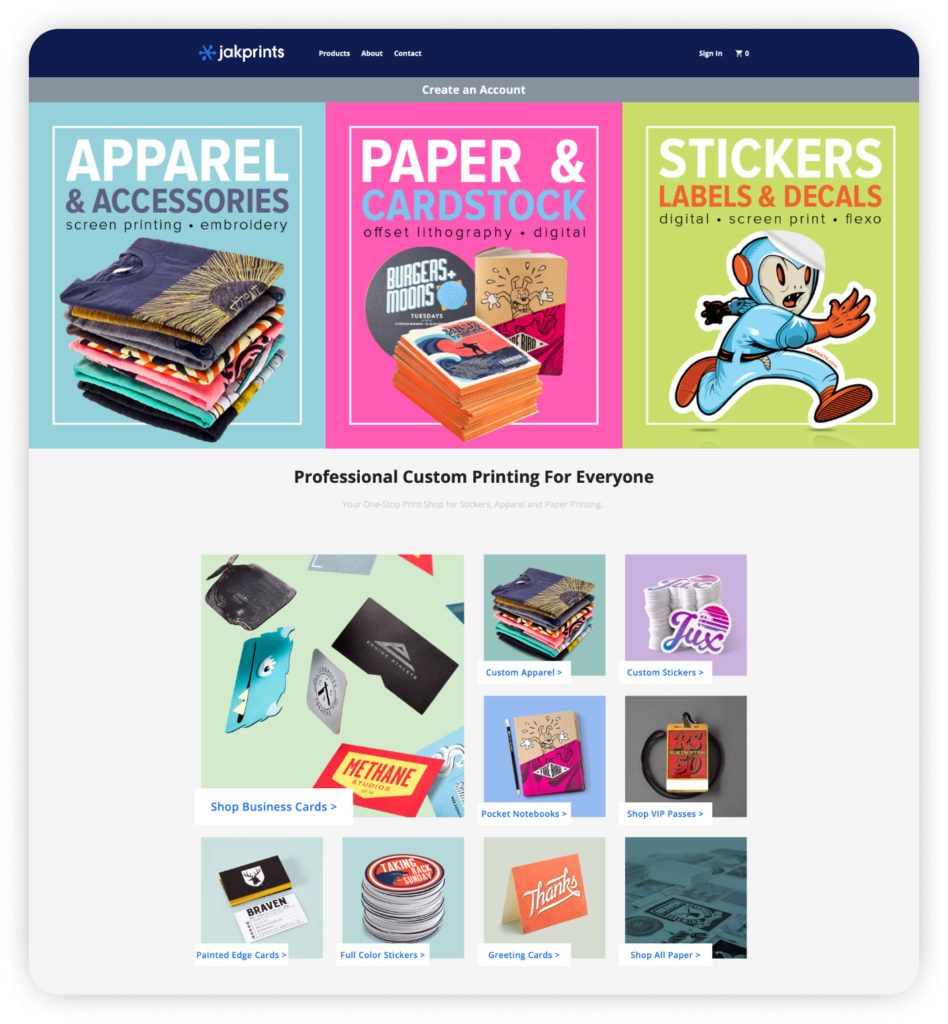 The Context
Based in Cleveland, Ohio, and formed by two longtime friends who'd always championed the unconventional route forward, Jakprints is built on a very simple notion: give customers exactly what they want — without any of the friction.
When founders Jacob Edwards and Dameon Guess reconnected after losing touch after high school, they were both aware of the same problem: Jacob, a touring musician, couldn't find a screen printer that made things easy for the buyer — and Dameon, a graphic designer who worked with a handful of clients, knew how difficult it was for his clients to source printing for themselves.
There was a gap in the market. And even though they'd dropped out of high school, flouted traditional career steps, and followed their passions to where they were then — Jacob and Dameon knew they were the ones who were going to fill it.
Jakprints was born. They were obsessively customer-first, incredibly detail-oriented, and — much to the dismay of their early vendors — insistent on keeping all printing green. They were principled, assured, and unwavering. Because they knew that, if they stuck to their guns, people would talk. And that talking would bring them everything they needed.

The Inflection Point
Jacob and Dameon were, unsurprisingly, right: they grew their business, had an arena of enthusiastic and loyal customers, and stuck hard to their principles year in and year out. They were golden.
Until they realized that the home-baked e-commerce products they'd been conducting business through just weren't doing the job. They were fine, of course, making transactions and the like possible — but Jakprints hadn't grown to what it was by settling for fine.
It hadn't carved out its own big, bold, and unique chunk of market real estate by offering its consumers fine.
So, after twenty years of trying to finagle the right solution from different generalized platforms and their own homegrown ideas, they stopped looking. As in, they stopped looking for a solution — and they started looking for a partner.
Leaving their Magento platform behind, Jacob and Dameon switched vehicles, setting their business up inside a platform that already understood the nuanced needs of screen printers. A platform that was able to seamlessly integrate with their vendors and applications, increase their capabilities and offerings, and work with, rather than over, their branding.
The platform — ahem, our platform here at InkSoft — transformed what Jakprints could bring to the table.
The Difference
With Online Stores, they could promote inventory offerings directly to their customers for smooth ordering — and have them updated in real-time, based on availability.
With Online Designer, they could engage a new subset of audience that wanted an immediate, hands-on custom design process — and lean into all of the untapped earning potential that brought with it.
And, through every facet of the e-commerce experience, they could tell their brand's story — with all of the high-energy, high-impact oomph their site visitors knew and loved.
Acclimating to the world of InkSoft was an invigorating — and customization-heavy — process, allowing the team at Jakprints to build the website, e-commerce store, and DIY-design-center of their dreams all at once. As team member Alex Kelly writes: "We put our roadmap side-by-side with the team at InkSoft, adjusting together for detours, and we're excited to navigate this journey ahead together."
And that's exactly what it is: a journey. Fueled by collaboration, creativity, and industry-best capabilities (on both sides), Jakprints took the powerful step towards innovation and self-improvement in order to do better by their people.
Because the most important force behind Jakprints has always been their people. From diverse product and service offerings to unrivaled customer support, that rings true as long as they've been in business. But now, with InkSoft behind them, they're a new kind of powerful.
Increased accessibility for more prospects. Enhanced shopping experiences for more buyers. Better, brighter features for more engagement.
The faces behind Jakprints have launched their capabilities to a whole new level, all while remaining true to themselves. And as an already knock-out power in the industry, we can't wait to see what they accomplish next.
And if you're reading this thinking, my team could sure use some of that backend simplicity, then now is the time to take control of your capabilities. Leverage the power of Online Stores and Online Designer for your business's gain and watch your audience react quicker, engage quicker, and hit that purchase button quicker. The set-ups are fast to implement and effective in excess, so what do you have to lose? Get to know them now.
---
Grow Faster with InkSoft.
From order to delivery, InkSoft provides all the tools you need to sell custom branded merchandise so you can grow faster. The best way to learn how InkSoft can help your business reach its sales goals is by taking a personalized tour with one of our Client Advisors. Click below to take the next step.
---
Related Post