Bottom Line Up Front: Find out why efficiency is so crucial to keeping your shop profitable during the busy holiday season so you can succeed all year long and get more customers.
The final quarter of every year can feel like a mixed blessing for print shops. There's a rush on orders for everything from fall 5Ks and farmers markets to school sports and holiday events. It's a great time to boost sales and give one last push before the winter lull sets in, and it's time to reassess for the New Year.
But that time of year is a mixed opportunity because if you're a busy shop and you don't have all the gears in place, there's a high probability of misprints, delays, and other mishaps that can upset your customers and cost you money.
The right tools can help you stay on top of those orders in the busy season. And it'll make you look like a true pro to your customers so that they know you're the go-to print shop for all their needs when they come back next season.
Efficiency is paramount
The term efficiency gets tossed around quite a bit, but why is it so important when printing custom merchandise? Here are a few big reasons:
Misprints & disorganization are costly: If your production and order management processes aren't standardized, you cost your shop money. The labor clock, materials, and misprints end up eating into your profits. Plus, bad reviews from unhappy customers can result in lost business or reduced new customers.
Consistency = profitability: One of the most significant pieces of advice business pros stress is that "consistency is key to making money." In other words, if you have repeatable steps that work every time, you'll stand to make more money instead of reinventing the wheel with every order.
More time for new business: If your shop's running efficiently, there will be less time spent on cleaning up messes or reprinting orders, which means you'll have more time to prospect for new customers and find ways to promote your shop; whether that's partnering with other local businesses and organizations or setting up more social and online promotions.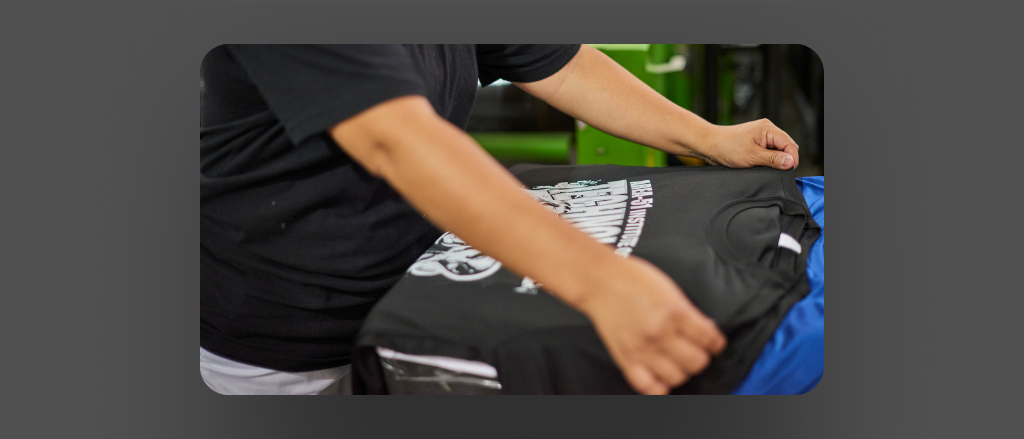 Set it and forget it
A good starting point for improving your efficiency is by coming up with some standard processes for your shop. That includes things like:
Defining roles and tasks: If everyone on the team has a specific set of responsibilities, there's less chance of people stepping on each other's toes (literally) and confusion over why certain parts of the production process haven't been completed. Having team members cross-trained is excellent, but ensuring everyone knows their day-to-day tasks is also important.
Build a checklist: Once you have roles established at your shop, a good old fashioned checklist for each role's essential tasks can help ensure there's no confusion. That checklist can include everything from basic, but important tasks like "power off the flash cure" to more technical tasks related to the screen room, the multihead embroidery machine, and so on.
Not convinced about the effectiveness of checklists? Find out how people in high-risk professions like aviation and surgery use them to make sure they're never missing an important step. Printing the wrong Pantone color on a sports jersey certainly isn't a life or death matter, but little oversights here and there add up!
Defining goals: People sometimes think of business goals as only reserved for the owners and management. But it's good to keep everyone on your team in the loop. Setting goals for your shop, whether a specific sales target or the number of customers per quarter, gives everyone on the team something to strive for.
Establish customer expectations: By now, you're probably sick of hearing about supply chain delays and shortages, but you're probably also aware that it's the "new normal." Some shirts and other supplies take a lot longer than they used to, and some sizes aren't as easy to track down.
Some of these issues are way beyond any print shop owner's control, but looping your customer in early can help take the sting off a little. Customers are generally more understanding if you're honest with them and give them enough time to plan ahead.
Have a plan for doing business online: Like it or not, customers want an easy way to do business with you online, so having a reliable online storefront can streamline your ordering and invoicing process.
Automate and digitize: Using electronic and automated solutions will save you and your team time and reduce errors. Moving away from things like the traditional marker board, paper order forms, and physical proofs can help speed up the ordering and production process and help you keep track of customer jobs more efficiently.
Why will these steps help?
If your production and order management systems are better adjusted, you can still function with a smaller staff. There's less confusion between the production floor and the front office, so you and your team can print more even if you're working with a skeleton crew. Plus, if you decide to scale up, it's much more feasible when you have a clearer picture of your shop's capacity and capabilities.
Making it happen
Tightening efficiency isn't always easy, especially if team members oppose big changes. But thankfully, we've got the tools to help you streamline, automate, and fine-tune how your shop prints custom merchandise and builds customer orders.
With the power of InkSoft, GraphicsFlow, and Printavo, you'll have all the resources you need to run an efficient business. Here are just a few examples of why:
Order management: InkSoft gives you the tools to efficiently manage customer orders, so all crucial information you and your team needs is stored in one central place. And it's easily accessible for team members in all departments.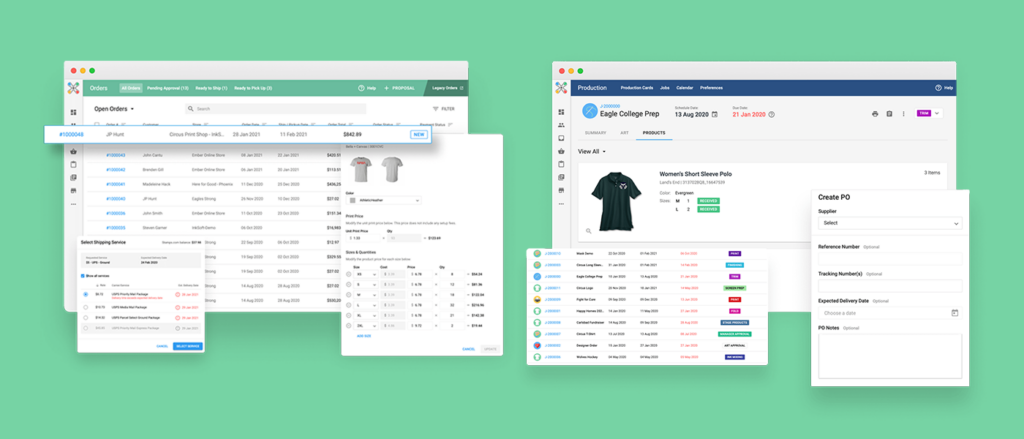 Plus, InkSoft's order management tools store all that order information so you can easily set up a reorder with your customers.
E-commerce solutions that work: One of the most significant parts of staying efficient as a modern print shop is ensuring you have a reliable online storefront that customers can access and know their transactions are safeguarded. InkSoft Stores give you the perfect tool for selling online and can even serve as your shop's website if you don't have the time and resources to build one from scratch.

Those same online stores also allow you to help your customers sell online. Use them for everything from fundraisers and community events to team stores and small business swag shops.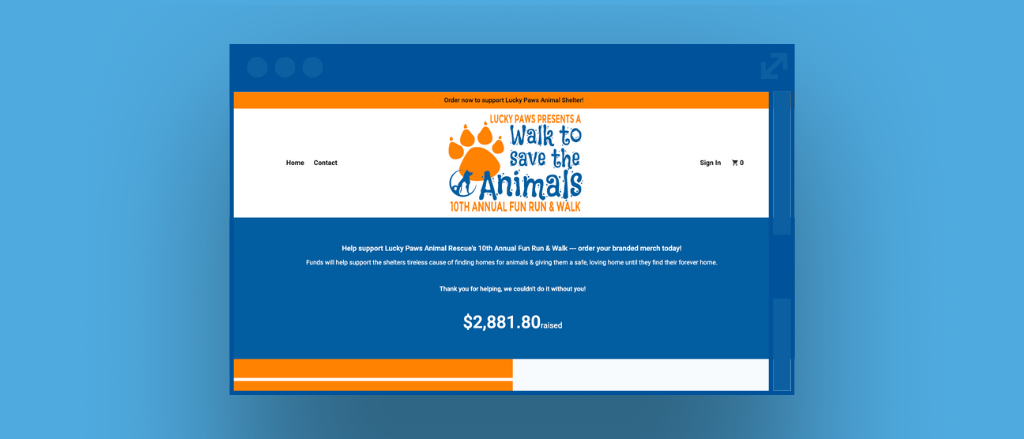 Whether it's an online store for your business or your customers, one of the biggest benefits for both parties is that your store stays open 24/7. You and your customers can still receive orders even when you're off the clock.
Better production management: Keeping your production team organized and efficient is crucial to getting customer jobs out on time. Printavo makes that all possible. Streamline your job production, so your team knows what they need to work on and when orders are due, so you're consistently exceeding customer expectations and getting merch printed. Stage jobs in an easy-to-read, fluid platform that keeps everyone on your team connected and on-task so there's never a missed order.
Automated art: Artwork is always a significant hurdle for print shops and can often be one of the breakdowns when it comes to keeping things efficient. You can use GraphicsFlow to speed up that mockup phase with an art approval system that's completely online. Send and approve designs through the platform's Art Portal, and you'll cut down on the back-and-forth of finalizing customer artwork.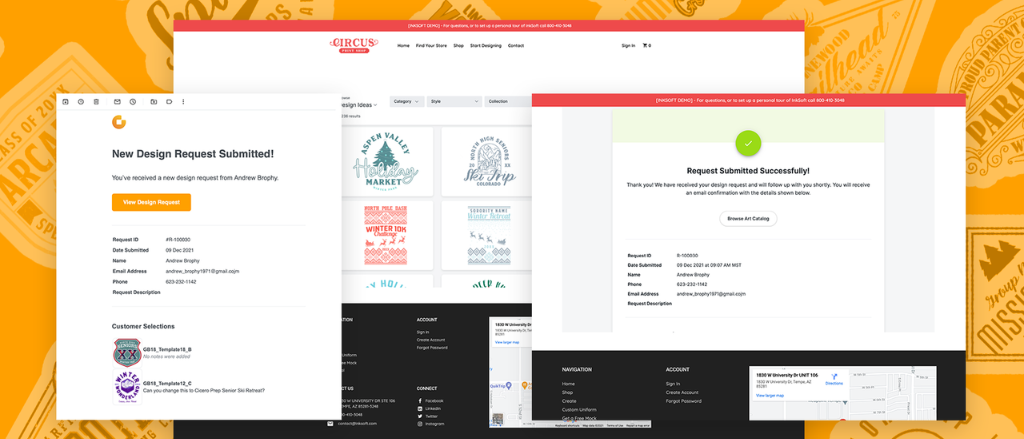 GraphicsFlow's extensive art library also helps reduce your team's time building designs from scratch or reconstructing customer design ideas of varying quality. You'll come to every customer conversation armed with design ideas, graphics, and fonts that you can quickly and easily build artwork with and custom-tailor that design to their needs.
Thriving in the busy season isn't just about getting those orders out the door. It's about printing high-quality custom-branded merchandise that your customers get excited about and look to you for their printing needs all year round. Utilizing all the powerful tools in InkSoft, GraphicsFlow, and Printavo will help you create artwork, generate orders, and produce top-of-the-line bundles for your customers.
Ready to close out 2022 strong and head into the New Year with flying colors? Schedule a personalized tour today.
Related Posts: