Bottom Line Up Front: Customers increasingly want more straightforward ways to do business online and simpler ways to pay for their custom-branded merch. Find out how InkSoft Stores can simplify that process so your shop can stay organized and efficient to bring in more jobs during the busy spring season.
E-commerce has become a crucial part of running a custom-printed merch business since it's the primary way to bring in more jobs from local and regional customers. Even those customers you have an in-person rapport with want the convenience of hopping online and making a purchase, thanks to the structure of everything else we buy these days, whether that's products on Amazon, groceries, or furniture. But selling custom-branded merch online involves a lot more than just sharing a few pictures of a printed shirt on Facebook or Instagram and hoping more customers reach out to you.
To successfully sell online in today's marketplace, you also need a website that's optimized for mobile and multiple payment options for checkout. InkSoft can help you and your customers tackle both of these challenges and capitalize on the busy Spring sports season.
Shopping on the Go
You might've heard the term "mobile optimization" before, and if you haven't, it simply means that a website works properly and smoothly on a mobile device. A website optimized for mobile has a better chance of users spending more time on it because it offers a seamless, headache-free experience. And, if a customer can navigate a website without any headaches from their phone, there's also a good chance they will be more likely to make a purchase.
Here's why that's important to your business– roughly 97% of Americans own some sort of cellphone, which means a massive part of the population now does their shopping from their phones. Your business needs to be prepared and organized for these online shoppers, especially as the Spring sports season ramps up.
What if your business doesn't have time to verify if it's mobile-optimized?
Set Yourself Up Right
That's where InkSoft Online Stores can help. You can easily create a 100% mobile-friendly website to sell your custom-branded merchandise and customize the page to your branding.
By setting up a landing page like the one displayed above, you'll have a mobile-friendly place customers can go to learn more about your business and services. You can also add convenient features like "Request a Quote" so customers can reach out to you on the go and find out more about your rates. This is especially handy if you're dealing with busy clients like those in charge of multiple school sports accounts that need merch.
InkSoft Stores also reduce the usual expensive, time-consuming work of building a website. With features like a website style editor and SEO tools to help your business show up higher in Google search results, you'll have a professional-looking site online in no time. And, if you have your domain already, you can connect your store to a custom URL.
Help Your Customers Sell Better
In addition to using InkSoft for creating a mobile-friendly, easy-to-use website for your business, you can also use InkSoft stores to help your customers who need a better e-commerce solution. Your customers can use InkSoft Stores to build a storefront and sell merch for school sports teams, booster clubs, fundraiser campaigns, local businesses, and much more.

They'll get the same benefits as your shop with a professional-looking, easily navigable storefront that their end customers can place orders through straight from their phone.
Multiple Ways to Pay
Modern shoppers want easy-to-use websites, but they also want variety regarding their payment options. According to recent research, mobile commerce had a more than 53% percent share in e-commerce last year, meaning demand probably won't decrease this year. If anything, it'll continue to grow with a population that got very comfortable with shopping on their phones through most of 2020 and 2021. So, in addition to having a mobile-optimized site, you'll want to make sure your customers have an easy way to pay at checkout.
InkSoft gives you the tools to meet this need, thanks to its integration with Stripe. It's a payment platform that lets your shop accept several payment methods, like credit cards, debit cards, and countless other options. Your customers with InkSoft Stores will also be able to offer the same diverse set of payment options with their storefronts, making it easier for everyone to sell more merchandise.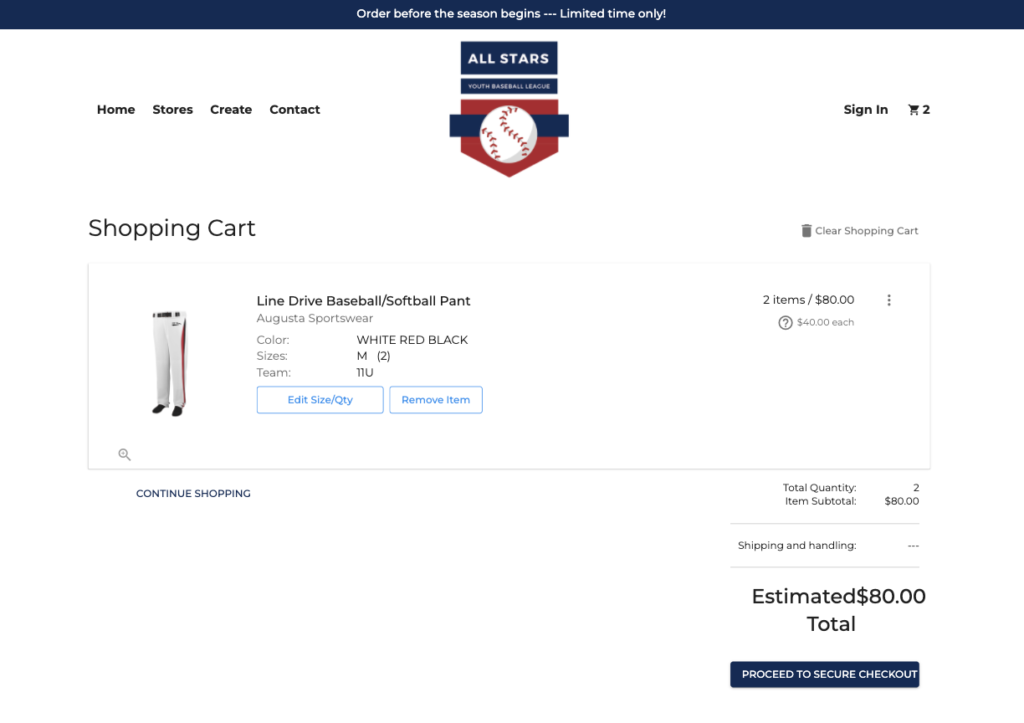 Other Tools to Meet the Modern Shopper
Easy payment options and mobile-optimized sites are just part of why InkSoft Stores can help you and your customers meet the needs of shoppers who want the convenience of shopping from their phones. Here are a few other key features that'll help sell more merch in this on-the-go marketplace:
Quick checkout: Thanks to mobile optimization and modern design, InkSoft stores provide shoppers a secure, fast checkout experience that they're already familiar with and expect from shopping on other retail websites.
Design on the go: InkSoft's Online Designer gives customers an easier way to submit design ideas to your shop on the go so you and your team can start the art approval process quickly.
Delivery information: InkSoft allows you to enable and disable estimated delivery dates, so you can better communicate with customers on ETA. This feature is convenient in the face of supply chain shortages.
Repeat Orders: InkSoft automatically saves customer information, whether it comes through an online store order or a design request. This makes it easier for you to follow up with customers who still need to approve a job and set up repeat orders with customers who've shopped with you previously.
Ready to get organized and sell more merch this busy spring season? Contact an InkSoft Client Advisor for a personalized tour today and change how you sell online.
Related Posts: