Bottom Line Up Front: Crazy Dog T-Shirts used InkSoft's online stores to promote star athletes, connect with the community, and run fundraisers. Find out how they were able to run their successful campaign.

InkSoft Online Stores are often the backbone of many school sports and team fundraisers. Rochester, New York-based Crazy Dog T-Shirts has connected with their local community with those online stores. And the company has seen success with its decorated apparel business thanks to the InkSoft Online Designer.
Founded in 2004, Crazy Dog T-Shirts prints novelty tees and custom designs. The business serves a wide variety of niches, offering products. The website touts goods like maternity shirts, fitness tank tops, and children's apparel. There's also an endless array of novelty T-shirts with funny statements like "I Like Coffee and Maybe 3 People."

Along with novelty shirts and printed apparel, Crazy Dog also has seen a lot of success with local athletes. And the business has been using InkSoft Stores for its e-commerce for the better part of a decade.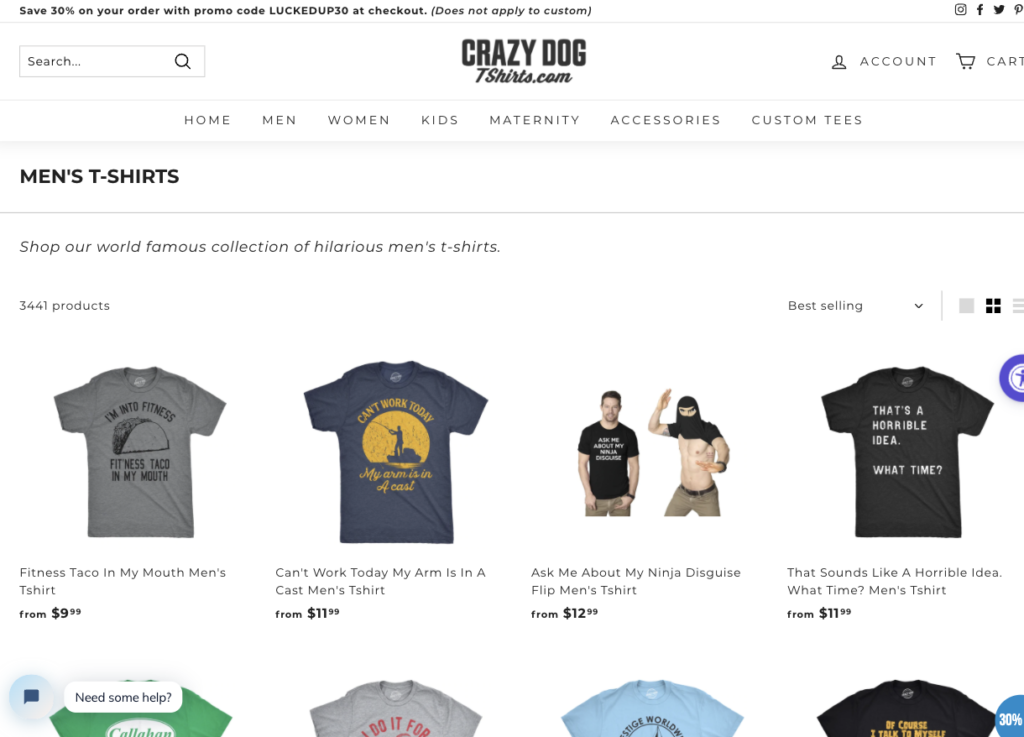 "I've been using InkSoft since I started here seven years ago, and it's super easy to use," said Brian Kelly, production manager at Crazy Dog T-Shirts. "We love the flexibility with features like product uploads, pay later, discounts, and especially the reporting functionality."
Brian said the business has run up to 10 InkSoft stores simultaneously at times. The reporting feature helps him and his production team easily keep track of sizes, quantities, and prioritize orders. The business also used InkSoft Stores to tap into a local athlete's notoriety that went viral.

In early December 2021, seven-foot-tall basketball player Connor Williams caused a stir in local news outlets during a game against the University of Buffalo. The St. John Fisher College basketball center's name started lighting up the Twitterverse after he completed an epic pass just seconds after he'd sprained his ankle on the court. Rather than turn that moment into a cash grab, Connor decided to turn the spotlight on a good cause.

Connor and his family decided to set up a fundraiser through his likeness, with a T-shirt that had his image and nickname "Big Cozy" across the front. As luck would have it, he already had a connection with Crazy Dog T-Shirts.
"Connor's mom has been working with us to print merch for nonprofits for the last 10 years, so we were excited to work with them," Brian said. "She reached out that night Connor went viral and said they wanted to produce shirts to benefit Rochester nonprofit Primetime 585."
Primetime 585 is a community-focused organization that uses sports as an outreach tool. The 501c3 organization runs free summer basketball camps for children in the greater Rochester area. And, it helps support families in need with other efforts like food drives and holiday gift drives. With Connor's Big Cozy merch store, he donated $5 of every sale to Primetime 585. The shop featured two different T-shirts and a sweatshirt with his jersey number on the back of all the garments.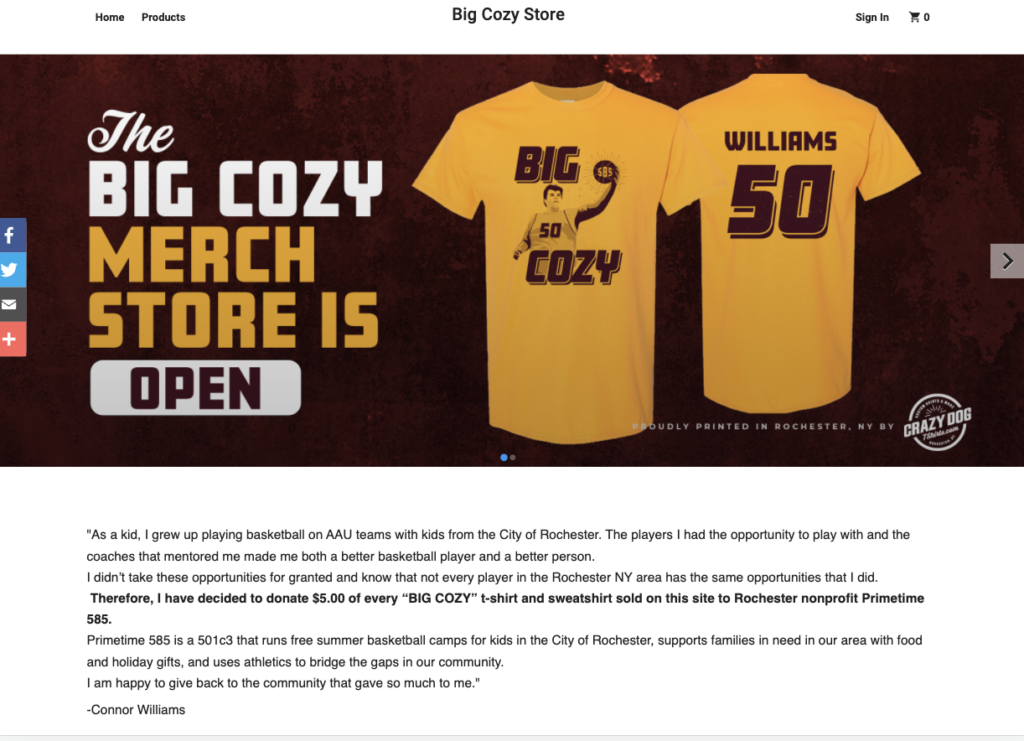 "The players I had the opportunity to play with and the coaches that mentored me made me both a better basketball player and a better person," Connor said on his store page. "I didn't take these opportunities for granted and know that not every player in the Rochester area has the same opportunities that I did."
Connor's online store used the InkSoft Stores platform to sell his three custom garments, and Crazy Dog T-Shirts printed the orders for the star athlete. Thanks to the online buzz about Connor's basketball court feats, Brian says the store saw some substantial traffic in just the first few days of opening.
Along with the success of Connor's Big Cozy Store, Brian said Crazy Dog has also used InkSoft Stores to launch other successful community-oriented campaigns too. The business heads up a Make a Difference fundraising campaign using an online store to sell merch every year. In 2021, Brian said the company raised nearly $20,000 for a local children's hospital through apparel and promotional products sold online.
And, school sports aren't just a flash in the pan with Connor's success. Crazy Dog also pairs its powerful online machine with old-school marketing.
"Once a quarter, we send merchandise boxes to the local schools with a sample of branded T-shirts, socks, and promo products to get their attention," said Brian.

Crazy Dog includes a postcard in those merch boxes with a QR code that links schools to a sample online store to visit and decide if they'd like to do business with the shop.
Brian said that feedback from schools is generally very positive for the fundraisers and stores.
"Everyone loves the convenience of ordering online, and the ordering process through InkSoft Stores makes it super easy," he said. "Perks like promo codes and discount codes make people feel like they are involved, and they recognize they're helping the community by supporting teams and causes."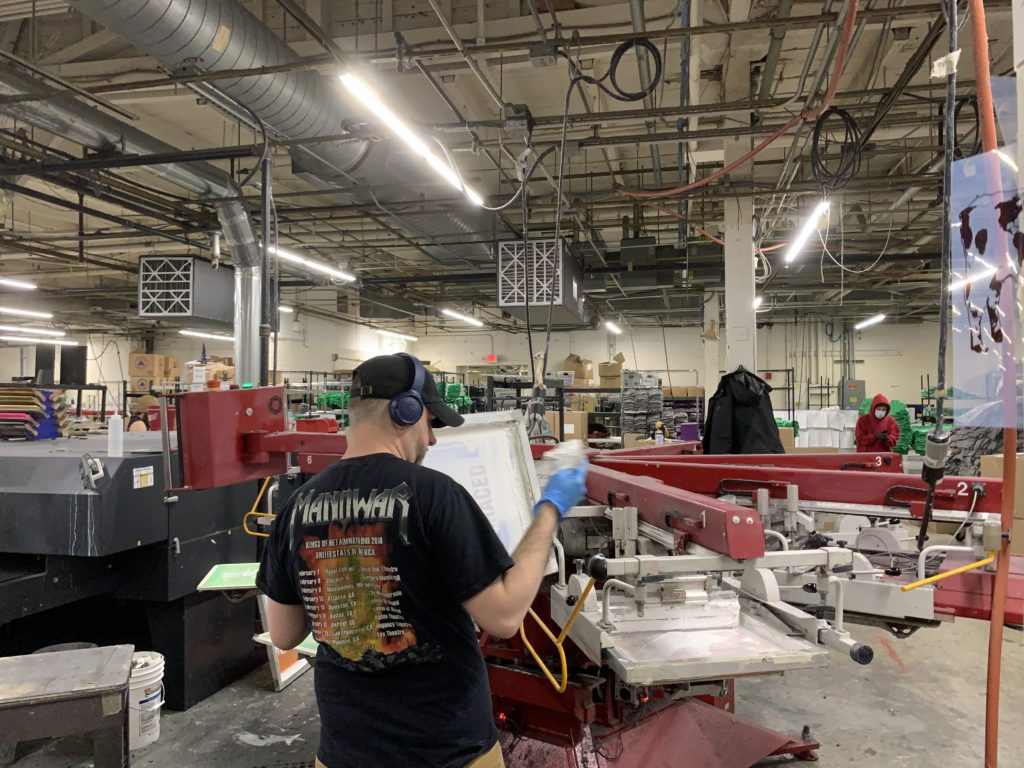 Looking ahead, Brian said Crazy Dog hopes to continue pushing the embedded InkSoft Design Studio to its customers. Brian said that having the designer built into Crazy Dog's site makes it faster for both the customer and the shop. He estimates the shop gets around five submissions a day from customers who submit a request to the shop, and they hope to keep growing that number.
"The designer and the online stores are great tools, and I'd say they definitely made our life easier," Brian said.
To find out how InkSoft can boost your online sales while helping your community, take a personalized tour with a Client Advisor today.
Related Posts: