Bottom Line Up Front: Today's feature looks at one entrepreneur's determination to defy odds, bypass the status quo, & leave a tremendous impact. From the birth of the pipedream to its full-fledged success, this is a story you don't want to miss.
It's our favorite time of day. The time where we celebrate our customers' ingenuity, where we reflect on our customers' accomplishments, and where our community — as a whole — gets its turn in the spotlight.
It's no secret that we're proud to be associated with each and every one of you, and it's no secret that when we get the chance to show off that pride, we jump for it. And today, right now, is no different.
Because today we're looking at a special kind of Spotlight. We're looking at an entrepreneur who was told over and over again that his goals were unreachable, and we're looking at an industry force that went out and did the dang thing anyway.
We're looking at determination, we're looking at passion, and we're looking at the spirit of humanity. But most importantly, we're looking at the community impact that comes from doing good — loudly.
Ladies and gentlemen, welcome to today's Customer Spotlight. WearTheFund is here — and it's time you got properly introduced.
Meet "WTF"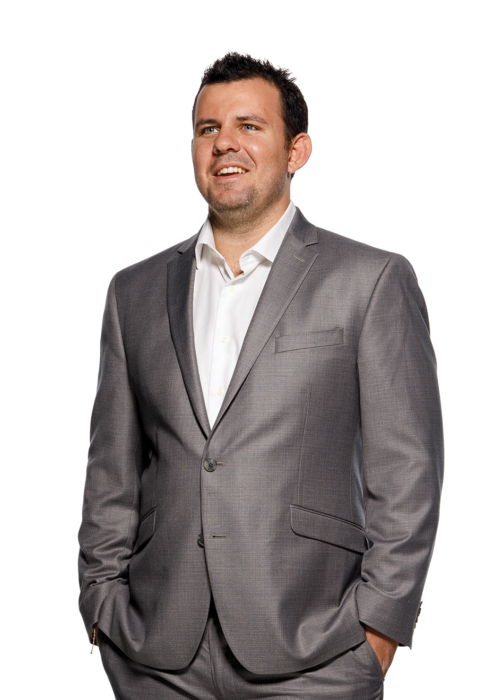 WearTheFund began as a pipedream.
Founder & CEO Sam Lewis was in business school when he had the idea to merge the ethos of a nonprofit with the drive of a corporation, but his professors — his mentors — shrugged it off. "You have to make money before you can give money," one told him, bestowing down the belief that philanthropy was a privilege only handed to those who'd already been successful. "You can be Mother Teresa or you can be Warren Buffet."
Sam wasn't buying it.
When he left school, the dream was still running wild in his mind. So, hunkered down in his parents' garage, hours of YouTube tutorials and starter materials in front of him, Sam began bringing the idea to life. That idea?
A for-profit screen printing company that donates a % of every sale directly to an organization doing good (501c3), WearTheFund has been up and running since 2012. In that time, it's partnered with 100+ different nonprofits (in cause sectors ranging from animal welfare to environmental protection to youth & education) and given upwards of $225,000 back to them. To Sam and his crew, they're the first in the wholesale custom apparel industry to take this social impact enterprise approach.
That alone is a staggeringly impressive feat. But to Sam and his team — made up of friends and family who believe in the mission as much as he does — it still isn't enough. They have their sights set on growing more, reaching more, impacting more — and they're ready to do what it takes to get there.
Which is where WearTheFund met InkSoft.
Driven by the need to tell their brand's story to wider audiences, expand their offerings for maximum engagement, and constantly improve their execution and distribution processes, WearTheFund has been committed to seeking out innovation. To seeking out wildly creative solutions, and to seeking out industry-best tactics for production.
Innovators recognize innovators. Risk-takers recognize risk-takers. And leaders recognize technology that empowers them to lead better. For Sam and his team, embracing the Online Designer and Online Stores solutions was a no-brainer.
With Online Designer, WearTheFund opened the door for heightened prospect engagement, novel excitement for buyers of one-off and mass orders alike, and distinction as a technologically advanced print shop in a competitive market. Already specializing in anything wholesale custom merch — including branded swag, special event apparel, uniforms, company gifts, and PPE — the tech solution offered them an extra boost of wow-factor.
With Online Stores — and Online Fundraising Stores, specifically — WearTheFund opened the door for seamless buying experiences, limitless marketability, and a distinctive way to leverage the power of a captive digital audience. Offering both for-profit and nonprofit customers custom e-commerce sites for their campaigns — fundraising and otherwise — the tech solution has given the screen printer (and its customers) an endless stream of enhanced selling power.
(For proof, just look at their partnership with the Southwest Florida Professional Fire Fighters & Paramedics organization, where they help develop and sell special apparel for their Firefighter & Paramedic Benevolent Fund. To date, they've raised more than $20K together.)
Sam knows that the thing that makes WearTheFund spectacular is the same thing that keeps his team energized, his community involved, and his mind focused on constant expansion. And that thing is the idea.
The idea of revolutionizing what's been presented — and upheld — as the norm. The idea of changing industries and minds, of defying expectations, and of creating a better way of doing things from scratch — in order to foster a better world.
That idea is what's propelled WearTheFund forward for nearly a decade, and it's what has distinguished Sam from being any old entrepreneur to being an entrepreneur that builds, excites, and delivers with his community — local and global — in mind.
At their homebase, a warehouse in Fort Myers, Florida, the team considers themselves pioneers in the for-profit, for-impact niche; as the first in the industry to "˜give back' on every order, they make sure every prospect understands what, exactly, is on the table.
"It's a win/win/win value proposition," the team tells us, where equal attention is paid to quality control (via in-house decoration), competitive pricing (via a guaranteed price-match), and social impact (via the automatic "˜give back' system in place).
It's unique, it's inspiring, and it's wholeheartedly deserving of every victory. We're so proud to be on the journey with WearTheFund, and we can't wait to watch as the whole team continues to defy, accomplish, and impact.
And here's where we tell you: if you're not taking advantage of the immense selling power of the Online Stores (and Online Fundraising Stores) platform, you're missing out. And it's costing you. This is the tech solution that gives you productivity, reach, and hands-off sales in excess, and it's the secret weapon of thousands of print shops across the country. Don't get left behind. Take the tour now.
---
Want more inspiration?
Check out these popular InkSoft Customer Spotlights