We'll paint the picture
Doctors running out of respirators.
Nurses asked to go against their training and wear the same gloves, over and over.
Entire hospitals short on personal protective equipment, short on ventilators, short on basic tools like hand sanitizer.
Across the country, this is the reality. It's something none of us have seen before, and it's something dire enough to impact the spread — and severity — of the virus we're trying to fight.
Meanwhile, in Tennessee…
The sun is shining. Southern charm runs high.
This is Clarksville, Tennessee. It favors tradition, prioritizes community, and appreciates things done right.
For Old Glory, a small batch artisan distillery based in Clarksville, the same code of values applies.
It isn't about getting out the highest quantity or appealing to the widest masses — it's about taking the time, and putting in the effort, to make something great.
Bourbon whiskey. Tennessee vodka. Jumpers Stash white rum. Strawberry Lemonade Smooth Shine Moonshine.
Old Glory's dedicated to the classics, but it isn't afraid to get creative — to add its own kick.
It's that commitment to its principles, to risk-taking, and to putting community first that led the small-batch Tennessee distillery to join the national fight.
Local distillery, meet nation-wide crisis
Matt Cunningham, the founder of Old Glory, knew that he was in a unique position to offer help.
With a spirits distillery under his control, he was one of the few who had the legally-sound capacity to produce the 96% ethanol needed for hand sanitizer.
So, Matt did what any community-minded risk-taker would do: he took action.
Partnering with Long Vue Farms, who donated the corn for the ethanol, Old Glory put all bourbon whiskey production on hold in order to get the sanitizer up and running.
With federal approval to produce the liquid hand sanitizer endorsed by the World Health Organization, Matt and the Old Glory staff began.
Their aim?
To offer all of the hand sanitizer made for free, to the people who need it most. That includes medical facilities, first responders, and community organizations — the individuals who are on the front lines, risking their own health to help others.
Enter community support
With Old Glory doing everything it can to support its community, it's asking for able members of its community to help support it.
In order to spread the word — and raise funds — for its hand sanitizer campaign, Old Glory has enacted a virtual store provided by InkSoft customer Twine Graphics.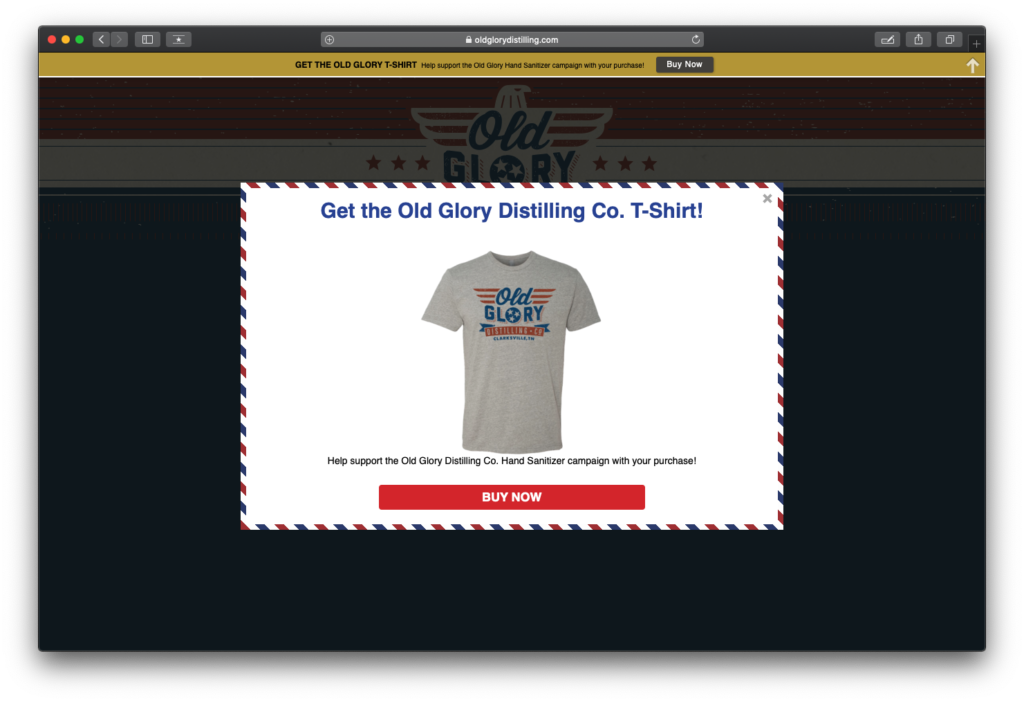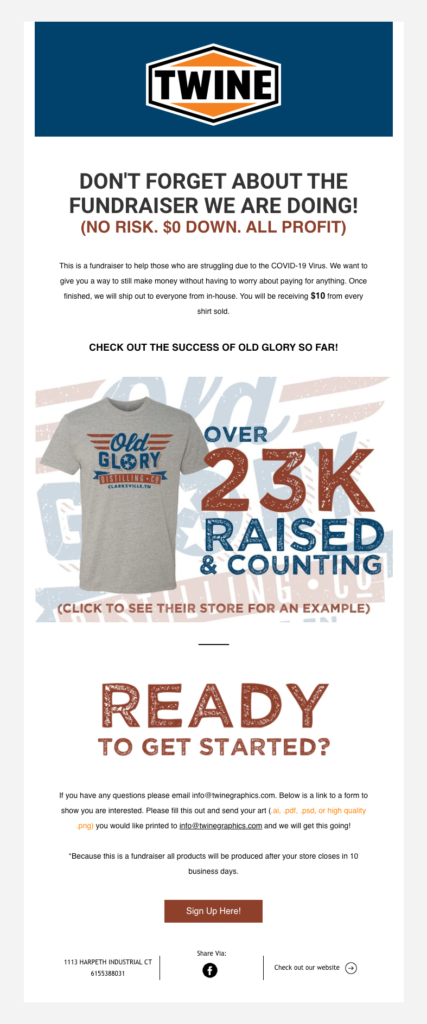 With one t-shirt available for sale (that simply reads "Old Glory Distilling Company, Clarksville, TN"), the point isn't to cause a global reaction or a viral sensation.
The point, like for everything else the distillery does, is to create something its community can stand behind.
Outside of Clarksville
While Old Glory's initiative is nothing short of heroic, because of federal prohibitions on shipping, the sanitizer produced will only be available to those close enough to pick it up.
So, while being outside of city (or state) lines might mean you can't partake in receiving sanitizer, it certainly doesn't mean that you're barred from taking action.
Maybe that looks like buying a $22 t-shirt from Old Glory and showing your support.
Maybe that looks like sending this article to a distillery in your community, and letting them know this type of production is possible.
Or maybe that looks like starting your own fundraising campaign, using decorated apparel and online stores to raise money for whatever initiative is most important to you.
The picture can change
Right now, in this moment, the crisis is urgent.
Needs aren't being met, and healthcare workers are made unnecessarily vulnerable.
But, with initiatives like Old Glory's, we have the power to affect change.
We have the power to protect our first responders, to strengthen our communities, and to band together to mitigate the threat.
If you're interested in starting an initiative of your own, reach out to us to see how we can help.
InkSoft offers features like Designer, Stores, and Fundraising to make designing merchandise, selling online, and supporting your community as seamless as possible.
Anything we can do to help your project succeed, we'd be glad to do.
Because, like you, we're still working. We're still trying to find different ways to help. And we believe that, when individuals come together to take action, anything is possible.
You can reach us at 800-410-3048.
Stay safe,
The InkSoft team