"Two weeks ago, I brought up the possible slow-down from the Coronavirus in a management meeting, and it was an afterthought to me and the rest of the team," Justin Moore wrote in the middle of March.
"[Now,] no-one is glossing over the effects and hardships this is causing."
Tasked with finding a way to keep his business moving in nearly impossible circumstances, Moore never considered folding. He looked around at the expertise his staff had, at the capabilities his warehouse had, and he did the only thing he could.
He got creative.
Like each of the countless fundraisers happening across the nation, this campaign took a spark of innovation and combined it with the intention of doing good.
Moore wasn't just looking to keep his own business functioning. He was looking to give a helping hand to other local businesses in his community, too.
So, without further ado, let's take a look at how Moore and his team created one of the most successful campaigns — in one of the most dire circumstances. If there's any campaign to learn from, it's this one.
Ladies and gentlemen, let's hear it for today's feature: Barrel Maker Printing and the Saving Small Business Chicago store!

Almost everything, gone
On March 16th, in a blog post penned to his customers, that's what Justin Moore wrote.
"Due to canceled events and business closings, orders from 95% of our customers have ceased."
Moore, the director of operations at Barrel Maker Printing, just outside of Chicago, had already made it so the apparel decorator had diverse sources of revenue. The team offered everything from screen printing and embroidery to screen printing classes — and even live printing at events.
But, with so many businesses forced to shut their doors, and with so many events canceled, those revenue streams were blocked.
The apparel decorator known for wearing many hats was suddenly stuck.
Moore, holding the weight of his business — and his staff — on his shoulders, turned to look outside his warehouse. He saw the hundreds (if not thousands) of other Chicago businesses affected by the same overwhelming plight, and he realized that inaction would be the only move that guaranteed destruction.
So he asked three questions.
"How can we help?"
"How can we save ourselves?"
"How can we build community with the people who have contributed and nourished us throughout the years?"
The answer was twofold.
First, it was a virtual fundraising store to benefit as many local Chicago businesses that wanted to partake.
Entitled "Saving Small Business Chicago," the store followed the foundation set by the Here For Good movement. The local businesses would get to choose the design of their custom t-shirts, and Barrel Maker would showcase those tees in their online store. When the campaign was over, Barrel Maker would get to work printing and shipping.
Second, Moore offered individualized online stores.
Barrel Maker had the know-how — and the technology — to set up virtual custom stores, so he offered local businesses the chance to create their own. At no cost.
Then, they'd be able to sell whatever branded merchandise they wanted, giving their customers a way to support them — even when their doors are closed.
At the end of his blog, Moore wrote that the Barrel Maker team only wanted two things. To save their operations, and to help other businesses' teams pay rent.

The overwhelming result
The Saving Small Business Chicago store began with a $25,000 goal.
29 t-shirts, one tote bag, one pin, and two mask packages later — the store saw proceeds of almost $61k.
I'll repeat that. Sixty-one thousand dollars.
And all of that money goes directly to helping local Chicago businesses. $10 from each purchase goes to the local business, and the rest goes to Barrel Maker, so they can keep their operations alive.
At first, Moore couldn't believe the success the store was having — he even took to a #HereForGood Sales Support Facebook group for apparel decorators to ask whether he should change the campaign's goal.
"We exceeded our goal yesterday! Is the consensus that it's better to leave as is or do we set a new goal?"
The answer? Keep pushing. Keep aiming higher, and keep encouraging the community to show up.
Because, as this campaign has shown us, they will.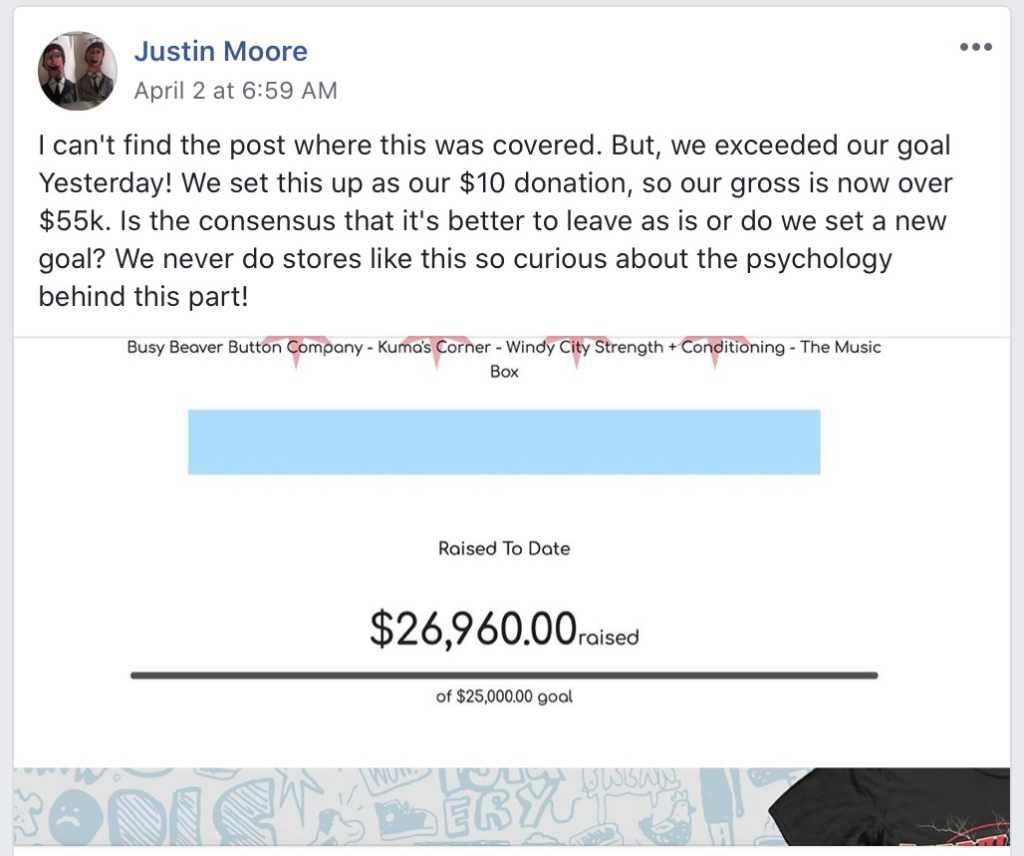 Getting out of your comfort zone makes success possible
Maybe it was because Barrel Maker was already accustomed to juggling many different streams of revenue. Or maybe it was because Moore never balked at the idea of innovation.
Whatever it was, when the virus took over and normal operations stopped, the apparel decorator refused to halt with them.
Moore jumped into brainstorming new ways to fundraise and new ways to serve customers, and that's what made the difference. That's what made Barrel Maker able to continue its operations, to take care of its staff, and to keep its integrity alive.
Remember: Barrel Maker went from a business known for its work at live events to a business making most — if not all — of its earnings through virtual stores and eCommerce.
That's a big leap.
But they didn't hesitate — and because of that creativity, because of that risk-taking mentality, it paid off.
Sixty-one thousand dollars.
That money could be waiting for your business on the other side of a creative idea. All you have to do is consider your capabilities, utilize your technology, and believe in your business.
Your community will do the rest.
If Barrel Maker's campaign has you inspired — like it has us — don't hesitate to hit the drawing board and get your own fundraiser rolling. Remember: InkSoft technology lets you design products, create virtual stores, and take care of all the fundraising logistics — from wherever you are.
So get busy. Start bringing local businesses in, and start taking control of your business's future. You won't regret it — but if you do nothing, you will.
We're rooting for you!
Stay safe,
The InkSoft Team
---
Learn how to launch successful online t-shirt fundraising campaigns!
Watch the free online class and access our marketing kit to crushing your fundraising goals!!
---
Launch your online t-shirt fundraising store today!
Join the online t-shirt fundraising store movement and start generating revenue for your print shop the local independent businesses that need your help now more than ever. InkSoft's Stores technology is the industry's leading and trusted e-commerce store platform made for the apparel decoration industry. Click the get a tour button below to schedule a personalized tour with one of our industry experts. We'll show you how businesses just like yours are using InkSoft to sell smarter.