In less than one week""in the midst of the COVID-19 pandemic no less""decorator Andy Holst has raised more than $23,000 of a $125,000 goal to support local businesses under the grassroots #HereforGood movement. "This is about bringing people together to support companies that had to close," says Holst, CEO of Yankton, SD-based Embroidery & Screen Works Inc (EASW). "And if it wasn't for InkSoft, we wouldn't have been able to do it."InkSoft is a company driven by the creativity, and the dedication, of its employees. We're so excited that Karlee Erwin is the newest addition to our team.
Within one hour, the EASW team set up a Store where supporters can score a soft T-shirt printed with their favorite local establishment's name. Half the proceeds go directly to that South Dakota business and the other half helps keep EASW going and the team employed. (You can read more about how EASW tapped into InkSoft's Designer and Stores tools in our customer spotlight on the shop.)
So what's ahead for decorators after COVID-19? "The shop owners who didn't believe in e-commerce will be out of business or scrambling," Holst says. "Some shops may be taking on overflow work from decorators who couldn't keep up."
That's why it's important for decorators to have a partner like InkSoft to jump-start their e-commerce efforts. Here we do a deeper dive into how EASW has benefited from InkSoft Stores.

Building a Shop From the Ground Up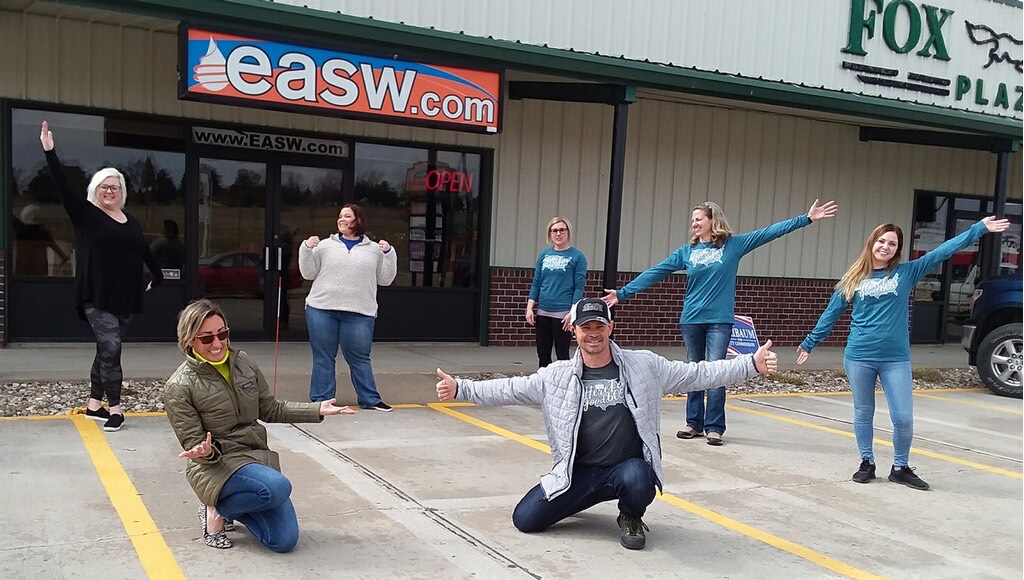 Back in 2003 when Holst and his wife, Jen, were working corporate jobs in their mid-20s, they wanted to make a major change. "We had no money, but we took a loan and bought a hobbyist decorating business," he says.
Fast-forward 18 years, and the multimillion-dollar shop housed in a 5,000-square-foot space employs more than 10 people. "People tell us we have the best showroom in the Midwest," Holst says. The shop uses six-color automatic screen-printing presses, 12 embroidery heads and two heat presses to meet fast-paced client demands.
The Holsts are proud to pay their employees way above industry above rates. "We like to do things right," Holst says. "We wanted to be the employer in Yankton with a stack of resumes, and we are."
Even though EASW's based in a town of just 15,000, the team plays at the national level""setting up and managing online Stores for big Fortune-level companies with a coast-to-coast reach. "We're absolute experts in the corporate branded-apparel world," Holst says. "We were doing e-commerce corporate apparel programs long before CustomInk and 4Imprint came on the scene."
However, as 2018 wound down, the Holsts were about to face some trying times.
Waiting for the Other Shoe to Drop?
Right before they left for Christmas break in December 2018, the shop started getting frantic calls from their web store customers. "Our web host provider experienced a security issue which impacted a number of our loyal clients," Holst says.
While EASW researched new stores providers, their staff took credit card numbers over the phone. "After having lackluster conversations with a series of vendors, I found InkSoft," Holst says. "They answered my pinpointed questions."
EASW signed on with InkSoft and QuickBooks Online in early March 2019 and went live April 1, 2019, and things got back on track. "We set our corporate customers up with InkSoft Stores," Holst says.
But then, the other shoe dropped. On April 25, 2019, Holst was diagnosed with lymphoma. "It was crazy," he says. "I was literally running my business from a chemo chair and facilitating large orders for our clients."
In September 2019, Holst finished his cancer treatments and thankfully was on the road to recovery. Once again, the team got back on track, continuing to launch new Stores for corporate clients. The Holsts cross-trained their team so that multiple people play different roles in building and managing clients' Stores. "That's the beauty of InkSoft," he says. "You can literally build and launch a Store in an hour."
Then, the other shoe dropped.
COVID-19's Massive, Ripple Effect
In March 2019, the effects of COVID-19 really hit across America, in businesses, schools and homes.
On March 13, EASW's overall sales came to a screeching slow down.
On March 16, a client canceled a $30,000 order. "Then another, so we were looking at a negative sale implication of $60,000," Holst says.
On March 18, they had to reduce staff working hours and took a day by day approach.
A few days later, while visiting InkSoft's Facebook page, Holst noticed a post about the Here for Good movement, dreamed up by fellow decorator Sloan Coleman, owner of St. Louis-based Tiny Little Monster T-shirts.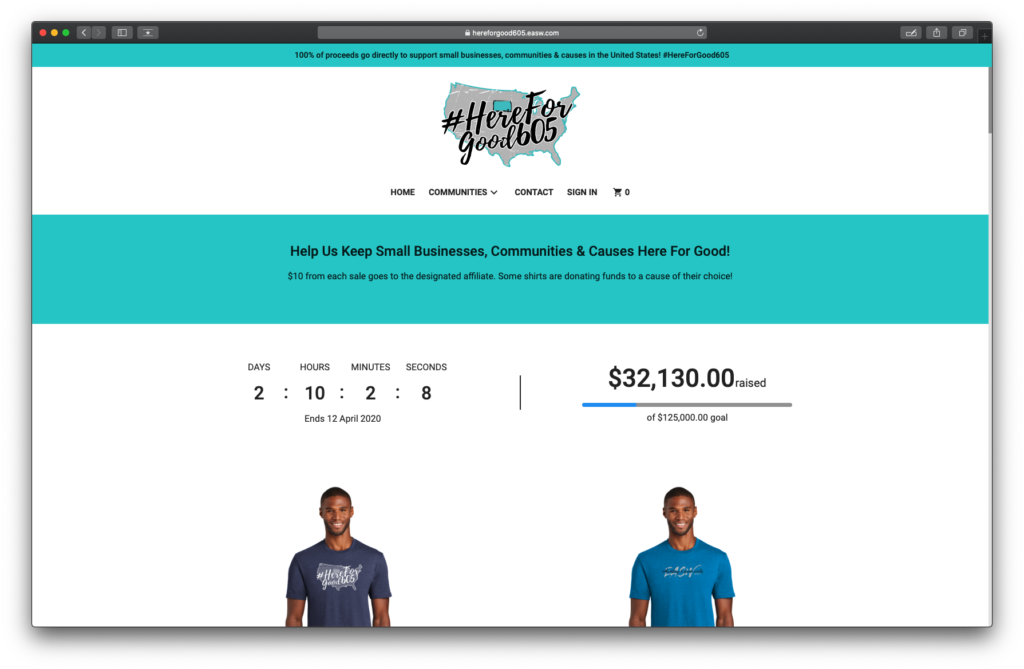 On March 22, the Holsts launched EASW's Here for Good Store. "I've been an entrepreneur for 18 years," Holst says, "I wanted to mobilize our company and raise over $20,000 in funds for small businesses in less than a week."
EASW's Here for Good Store currently includes T-shirt designs for 200 local companies. "To keep adding businesses efficiently, we ask them to send us a vectored logo and to choose a T-shirt color," he says. "Then, they're up and running in our Store."
The team also quickly created a special Here for Good 605 design (605 is the shop's area code). "All the proceeds for this design will go to our team," Holst says. "We also plan to go national with this Store, to help our business and lots of others."
The Silver Lining
In the last couple of weeks, the EASW team has been moving like gangbusters on spreading the word about Here for Good: "We've been reaching out to our clients to grow this Store organically," Holst says. "We're saying, "˜Hey, if your friend or relative has a small business that needs support, let us know.'"
Holst believes that the Here for Good movement will shine a much-needed spotlight on the often-invisible decorated goods industry. "We're a niche industry, not a business the general population knows, like banking," he says. "It's going to be an absolutely phenomenal thing for decorators."
It's also about generating good business karma in an age of social responsibility. "If we all start jumping on this, we're going to shine," Holst says. "If we don't do it now, when will we do it?"
Show Your Support
Check out EASW's Here for Good 605 InkSoft Store""and consider supporting some small businesses in South Dakota.