Bottomline Line Up Front: Adding signage like lawn signs, yard signs, and banners into your local community "˜Here for Good' online fundraising stores is a win-win. Below, we breakdown how.
Marshall, MI-based FUG Ink is printing yard signs to spread positive messages of hope, solidarity, and empowerment around town during the coronavirus pandemic, which hasn't slowed down yet.
The screen-printing shop, which counts decorated apparel as its main bread and butter, partnered with BluFish of Marshall to launch this altruistic""and impactful"" effort for their local community. In fact, some studies estimate that a good sign is as effective as 24 full-page newspaper ads.
FUG's InkSoft-powered online Store headlines with the slogan: MARSHALL, We're In This Together. For an affordable $20 a pop (plus tax), buyers can purchase signs with a variety of rallying messages, including "COMMUNITY: Together We Stand," "EMPOWER: Together We Stand" and "SUPPORT: We All Play a Part."
Half the proceeds of each sign purchase goes to the Marshall Chamber of Commerce. The other half helps FUG Ink stay afloat. Even better, the donations help the chamber disburse grants up to $1,000 for each local business that applies.
Even cooler, FUG's staff volunteered to hand-deliver and post signs in customers' yards and in front of their businesses""making it a great opportunity for people to buy multiples and gift them to neighbors and neighboring companies.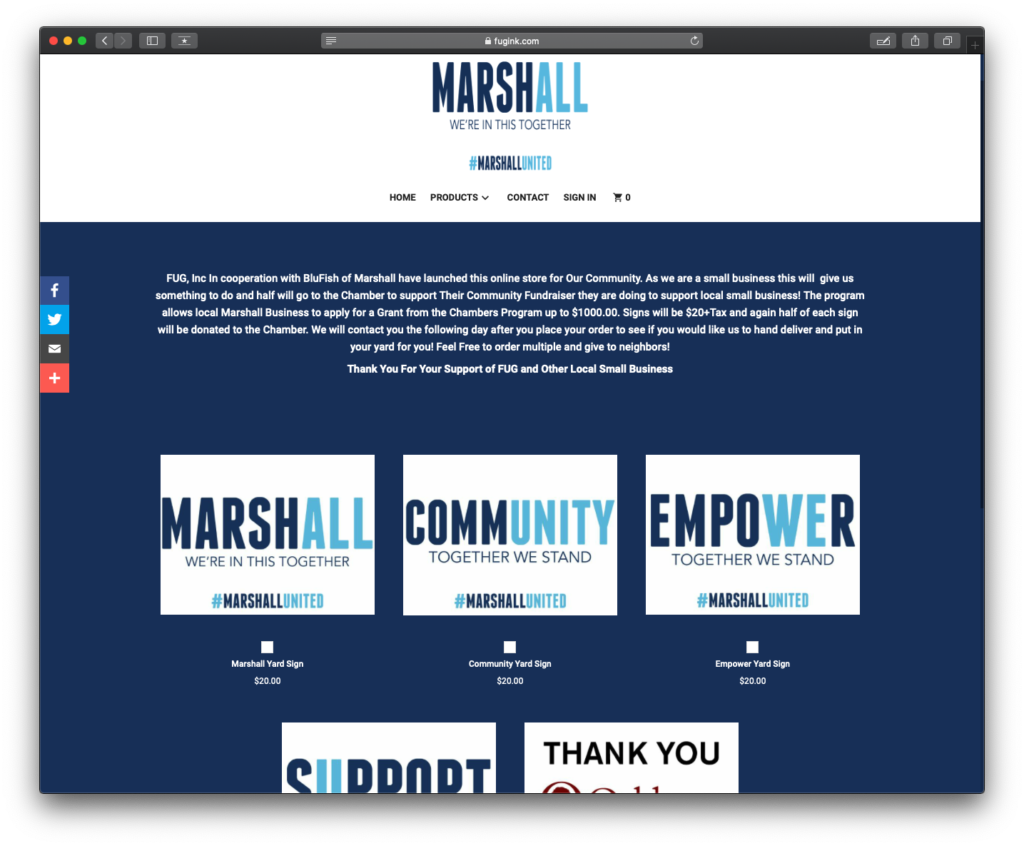 FUG Ink used InkSoft tools""Designer, Stores, and Fundraising features""to create its "We're In This Together" store. This is a great example of how you can use our Store platform to sell a range of e-commerce products, from apparel to promotional products to signs.
Yes, Your Message REALLY Matters
No doubt, in your corner of the country, you've seen yard signs from the Hate Has No Home Here movement, started hyper-locally by a group of neighbors in a diverse North Park, Chicago neighborhood.
Get this: A third grader and kindergartener imagined the eponymous "Hate Has No Home Here" phrase at Peterson Elementary School. Then, North Park residents, including Catherine Korda and Barbara Nordlund, organized and launched the campaign that has gone nationwide.
FUG Ink's team did something similar. They tapped into what their community is feeling: that rallying around local businesses is the right thing to do.
Right now, we're united in fighting the spread of COVID-19.
We're supporting local businesses""and the people they employ and serve.
If your shop has the capability to print signs or you work with wholesale contract signage professionals, now's the perfect time to add signs into your fundraising mix.
Since yard signs are easy to produce, they're low-cost, high-margin items for your shop. They're also easy to move around to different eye-catching locations.
Share Your Signs on Social and Beyond
FUG also created a hashtag for its signage effort #MarshallUnited, encouraging people to snap photos of their signs and post them on social media. (Tip: Encourage people to also do this with imprinted T-shirts and other items they purchase with you in support of local businesses, organizations, and efforts.)
Think about it: We're all social distancing, so we're not seeing each other's business-supportive T-shirts as much as we'd like.
If people go out driving, walking, jogging or cycling, seeing a bevy of community-supporting signs, the message heartens them. Feeling part of something bigger than themselves encourages them to pitch in, however that looks.
To create signs that get seen and remembered, use high-contrast colors, no borders and shorter messages. Both consumers and businesses rate legibility as the most characteristic of an effective sign, according to the University of Cincinnati's Economic Center.
Be sure to include your shop branding or Store website address on your signage, if you can. Nearly 75% of people indicated that they had told others about a business simply based on its signage, according to FedEx Office, a small business marketing solutions firm, in conjunction with Ketchum Global Research & Analytics.
Here's How You Can Join the 'Here for Good' Fundraising Movement
Watch InkSoft's On-Demand Fundraising for Community and Unity Class
Take a few minutes to learn how you can serve your local community with an online T-shirt and custom apparel fundraising stores. Watch this quick video and access your own turnkey fundraising marketing copy kit.
---
Start Offering Online Fundraising Stores Today!
InkSoft is the industry's leading e-commerce sales platform made for apparel decorators and print shops. Trusted by thousands, InkSoft is the best choice for online fundraising stores.
Call 800-410-3048 to speak with one of our experts and learn why InkSoft is the leading e-commerce and online store solution made for apparel decorators, print shops and promotional product distributors.